The Girls writer and star says she experienced a reactivation of the condition after the supreme court confirmation. That is not as 'crazy' as she fears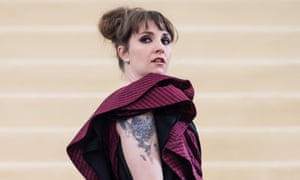 If you felt physically sick at Brett Kavanaugh's appointment to thesupreme court, you are not alone. Lena Dunham, the writer and star of the HBO series Girls, links a flare-up of her fibromyalgia to Dr Christine Blasey Ford's allegations of Kavanaugh's abuse. She told her Instagram followers: "It felt like every cell in my neck was singing … Yesterday, I felt like I was suspended in gel, and when I meditated a line of pain zipped from my neck to my foot." With such a collection of symptoms, Dunham admits: "It's hard to shake the feeling I am crazy." But this is fibromyalgia, a chronic pain condition with no known cause and unclear pathophysiology (no one knows what functional changes in the body cause its manifestation). Symptoms include widespread muscle pain and tenderness, headaches, tingling and numbness in the limbs, overwhelming fatigue and discomfort with light or noise. People with fibromyalgia are often hypersensitive to painful stimuli and women are affected more than men.
So could Dunham's fibromyalgia have been "reactivated", as she claims, by the stress of Kavanaugh's appointment? The condition is thought to be a central nervous system disorder of pain regulation. That people with fibromyalgia are hypersensitive suggests that the brain is not processing pain properly. It fails to distinguish between what should and should not hurt.
Genetics are partly to blame, with siblings of those with fibromyalgia being more than 13 times times more likely to have the condition than those without. But the evidence for stress acting as a trigger is "scarce and rather conflicting", according to Belgian researchers. Some studies show that people with Fibromyalgia are more likely than others to have experienced childhood sexual, physical or emotional abuse. One study found no increase in symptoms of fibromyalgia after the New York terror attacks but concluded that only stressors with a "strong personal significance" might trigger or reactivate the condition. So Dunham isn't "crazy" – she really may feel this appointment so personally that it's physically painful.
Since you're here…
… we have a small favour to ask. More people are reading the Guardian than ever, but advertising revenues across the media are falling fast. And unlike many news organisations, we haven't put up a paywall – we want to keep our journalism as open as we can. So you can see why we need to ask for your help.
The Guardian is editorially independent. So we set our own agenda. Our journalism is free from commercial bias. It isn't influenced by billionaire owners, politicians or shareholders. No one edits our Editor. No one steers our opinion. This means we can give a voice to the voiceless. It lets us challenge the powerful – and hold them to account. At a time when our honest, factual reporting is critical, it's one of many things that set us apart.
Our approach is different from others in the media. While others offer only fixed subscriptions, we give our readers the option to support us voluntarily. This is not meant as a short term solution; this approach is for now and for the future. By supporting The Guardian, you're investing in the long term sustainability of our independent, investigative journalism.
If everyone who reads our reporting, who likes it, helps to support it, our future would be much more secure. For as little as £1, you can support the Guardian – and it only takes a minute. Thank you.