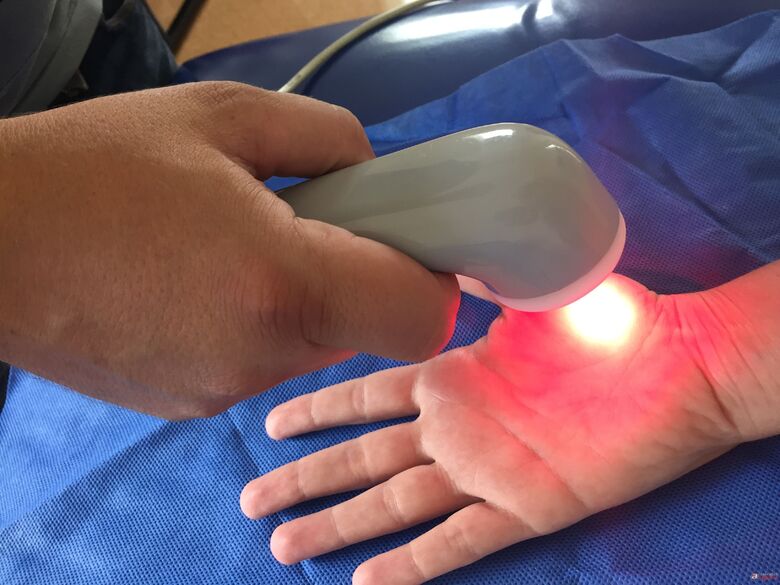 However, according to Aquino, due to acute pain crises, many patients can not initiate physical exercises and hydrotherapy, because pain prevents them from performing these actions.
SYSTEMATIC ACTION
According to the coordinator of the research, ultrasound and laser applications are usually done directly at the points where the patient feels pain (places called trigger points or tender points ), and the idea of ​​applying light and ultrasound palms of the hands was based on an article reporting that these regions of patients with fibromyalgia contained a greater number of sensory cells than those of patients who did not have the disease.
After ten sessions of laser and ultrasound application (three minutes in each palm), performed twice a week, the pain of the volunteer who participated in this study ceased in all points and the quality of life of the patient had an improvement of 335%.
On a scale of 0 to 10 (with 10 representing the maximum degree of pain) at the beginning of treatment, the patient classified her pain as level 9; in the end, the pain sensation dropped to 0 – the results of the research were published in the Journal of Novel Physiotherapies , bringing the signature of Aquino, from Prof. Dr. Vanderlei Salvador Bagnato (professor of the IFSC / USP and study supervisor) and the unit's physiotherapists, Daniel Franco and Juliana Amaral.
According to Aquino, the application of conjugated ultrasound and laser culminates in the expansion of the anti-inflammatory potential of both resources, returning to body homeostasis (body balance) and controlling pain. For the Institute's researcher, until recently the application of the two treatments was unimaginable because of an operational issue, since no equipment provided the association of these applications. However, according to the researcher, the prototype in question, which was developed in the Optics Group, made it possible to obtain the best laser and ultrasound results simultaneously.Knowing that the use of laser associated with the ultrasound can soften the symptoms of fibromyalgia, whereas its objective now is to verify which methodology can provide better action in the treatment, Aquino has compared results of applications that sometimes are made only with the use of laser and that at other times are performed only with ultrasound. (Rui Sintra & Thierry Santos – Communication Department – IFSC / USP)